NYC – AWAD Chapter) cordially invites all AWAD Members and Friends (men and women alike!) to our Fall 2015 Social on November 18th 6:30PM -8:30pm at Site/109. The event is kindly being hosted by the Cynthia Corbett Gallery. Cynthia is both a Founding Member and an AWAD Board Member.
Enjoy a glass of wine while networking, meeting old friends and viewing Cynthia's multi-level pop-up show featuring LLUIS BARBA | Travellers in Time and YOUNG MASTERS Art Prize | Focus on New Work.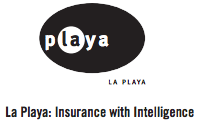 The occasion is being generously sponsored by our newest NYC partner,  La Playa Fine Arts: Insurance with Intelligence. Come by, meet the La Playa Team and learn about how they help the businesses of art dealers, from ensuring art is protected to understanding what type of cover is needed for your business model (whether you participate in art fairs or focus on art advisory). They'll give a brief talk on Insurance Essentials for the Art World, and Insurance Expert Charlene Gill will be available for mini 1-2-1s on-site, to answer questions you have about protecting your art business.
This event is free of charge but space is limited.  To attend, please RSVP by reserving your place via this Eventbrite page OR email engage@womenartdealers.org.